| | |
| --- | --- |
| | |
On this page I have simply grouped photos taken of people with scenic backdrops. Often I do not know where they were taken, but I have tried to put them in more or less chronological order, based when possible upon dates on slide boxes or notes on photos, and, where that documentation was lacking, judging by how old Joan and I look.
Here are several nice photos taken early in our Montana sojourn, all from the same slide box:
These were also from early in our time in Montana, being in a box labelled "September, 1955." I originally thought they were from our trip north, but since I've begun a deeper study of Dad's old orders and other papers, I realize this is impossible. He was ordered to report to Malmstrom on July 5. So these slides must have been taken on an early mountain outing, after we'd been in Great Falls for a couple of months..
The two shots on the lower right were in a different box, but since Joan and I are wearing the same clothes as in the one next to it, I imagine this was an example of slides getting put back in the wrong box. Of course, another alternative is that the one on the left was in the wrong box! I remember so clearly the little red rain boots I'm wearing in the photo on the right just below. Isn't it funny what sticks in your memory! I think maybe they were Mom's and I was thrilled to be able to wear something so "grown up."
These pictures of me and Joan might have been taken at the same place as the one above with the dead tree, but there are some differences in clothes and the shape of the tree and mountains, so I'm not sure. Since there is another shot of what I think is the same tree, without kids, that shows more clearly it's in the Tetons, these might have been taken on our trip north in 1955, but they came from an undated box, so I can't be sure. I also couldn't decide whether I liked the more silhouetted view, or having our laughing faces more discernible, so I offer two versions of the slide:
This adorable picture of Joan was not labelled, but was in the same box with slides from the 1956 visit of Uncle Arthur and his family: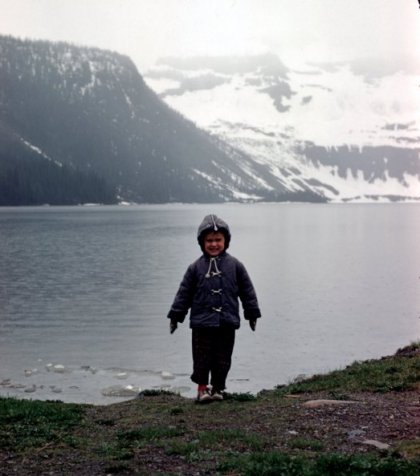 Here is another set, all from another, undated, box of slides:
Moving from slides to photos, here are three that I'm really not sure about. I look so young I'm really not sure they were taken in Montana, but I don't know where else they could have been, so I've included them here. Joan looks pretty little, too!
No question about these two, though (my pose in two of them indicates they were taken during my "Hollywood" phase):
Here's a few more, of Joan, in similar scenes (they were undated):
And I might even know where this was, more precisely than just "Montana." I'm guessing it was taken looking across part of Lake Sherburne at Many Glacier Hotel, with Mt. Grinnell partially obscured by fog in the background: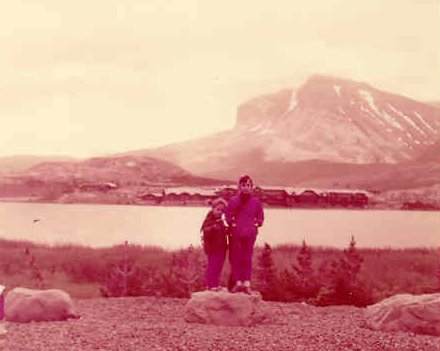 Here are four photos that seem to be about the same vintage, and a couple were obviously taken at on the same trip:
Here are three fine portraits beside a scenic stream. I wonder why Mom didn't get hers taken?
And fInally, rounding out this miscellany, there are these three odd little photos of Joan and our red station wagon from a slide box dated August, 1957. I have no memory of the place they were taken, however. It was probably some motel, possibly on our way to or from Houston on our annual trek.
| | | |
| --- | --- | --- |
| | | |