Narsarsuaq (BW-1), Greenland
The Bluie-West-1 airfield (which Billy referred to as "Blue-West") was where Billy and the crew of Marauder 1863 (as well as countless other planes and crews) stopped off on their way to England. The site is now the Narsarsuaq Airport, serving southern Greenland. It was a U.S. air base until 1959, when it was handed over for civilian use. I found this lovely picture of the area onNarsarsuaq Airport website, which also had historical information about the base, but I cannot find this website in 2019. Wikipedia does have a page with some info here.
We found two photographs with some of Billy's papers pertaining to his 18-month stay in Newfoundland in the early 1950's, pictures which appear to be of this Narsarsuaq Base. Billy spent some time in, or at least visited, Greenland, specifically Thule Air Force Base, while he was stationed in Newfoundland. And I like to think that he visited BW-1, or at least flew over it, while he was in that part of the world, since he mentioned in his Journal that he would like to return to Greenland in peacetime.
I do not know if he took the pictures or if he had copies made from someone else's, but the first (labelled) photo below appears to be of the approach to Narsarsuaq, while the second photo is, I assume, of the base itself. Comparing these photos with the one found on the 398th Bombardment Group's website, which is reproduced below, and the one above, led me to this conclusion.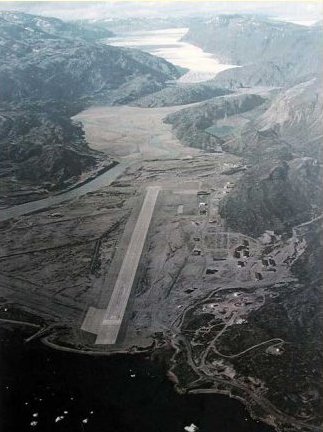 Some detailed information and remembrances of the Bluie West-1 base can be found here.