We thoroughly enjoyed our brief visit to the jungle, which began and ended in the small but lively town of Puerto Maldonado. From our arrival at the airport until our departure 2 days later we were treated like royalty by the folks at the Reserva Amazonica lodge, a complex about 45 minutes downstream from the town.

The experience was part cruise ship, part camping trip and part our own personal National Geographic expedition. What fun!
---
Back to main page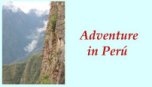 All photos, unless otherwise credited, are © by Henry J. Amen III. Please do not use without permission.