Our daylong tour of the Valle sagrado included stops at three towns and a native textile cooperative, as well as an unforgettable buffet lunch, one of the best of many great meals we had in Perú. The first three links below take you to our major stops, in order:

Below is a map showing the whole length of the valley, from Cusco to Machu Picchu. The places we stopped (other than along the road at scenic overlooks—too many to indicate!) are noted with red dots. You could spend a lot more time here than we did and still not see everything of interest.

---
Back to main page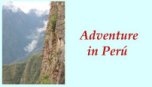 All photos, unless otherwise credited, are © by Henry J. Amen III. Please do not use without permission.