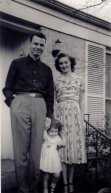 Houston
In January, 1951, Billy's duty station was given as Randolph Field in San Antonio. In March, he was assigned to temporary duty in a training wing at Ellington Field, where he also entered a Navigator Refresher Course.
At this time, I believe he was again disappointed in his assignment. June indicated to me that rather than being a pilot, he was assigned to be an instructor. This meant that he did not ever see combat in Korea.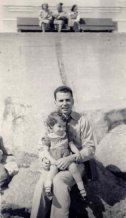 Galveston
In May of 1951, he was assigned to an "academic department" at Reese AFB, Lubbock, Texas. Billy, June, and I lived in Lubbock for a year, where Billy was given proficiency ratings for day and night flying in B-25 aircraft. He had a bad cold/sinus problem in February-March of 1952, when he was suspended from flying.
In April, his specialties were given as Instructor, Air Operations Officer, bomber pilot, and aircraft observer/navigator. His time at Reese seems to have set his career on its eventual administrative/educational trajectory. Operational duties, as well as serving as a instructor pilot, take up more and more of his time at work, from now until his death in 1960, at least as reflected in the orders.
Another transfer happened in May of 1952, to the Pilot Training Wing in Bryan, Texas, where he was named Assistant Director of Academic Training.
In August of 1952, Billy was ordered to report to Craig AFB, Alabama on temporary duty for 8 weeks, for the purpose of attending an eight-week pilot instructor class. While he was there, June stayed with her parents in Houston. In September, while Billy was still in Alabama, Joan was born, and Billy returned to the Houston area on October 20.
The next year of Billy's service saw a dramatic change in his location which also meant a big change (however temporary) in family life.