In March, 1945, Billy was assigned, along with several other navigators and bombardiers, to Curtis Field in Brady, Texas, for "Primary Pilot Training." This is where Billy and June were married on April 13, 1945. (You can visit a reconstruction of the Curtis Field control tower in Brady, as we did on Veterans' Day in 2007, and peruse the impressive collection of military artifacts and papers at the Heart of Texas Historical Museum. Including a picture of Billy!)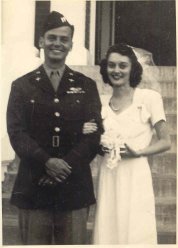 Wedding in Brady
They spent the first year of their marriage moving frequently from small town airbase to small town airbase—Pampa, Texas; Enid, Oklahoma; San Angelo, Texas; Hattiesburg, Mississippi—as Billy went to various schools and through various types of training.
June told me that housing for young couples was difficult to come by in all of these places. She remembered going door to door with another Army Air Force wife in one of the towns, trying to find rooms for rent. With the large numbers of men coming back to the States after V-E Day, which was May 8, 1945, this housing shortage is not too surprising.
This is an announcement of their wedding, probably from the hometown church newsletter back in Houston:

During one of the training periods, Billy and June had to be separated, since he wrote letters to her from Louisville, Kentucky, in November of 1945, although according to one of the letters, it sounded like the Louisville trip was something of an administrative mix-up.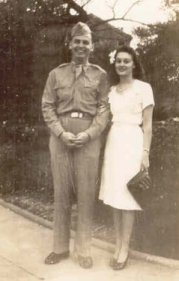 Camp Shelby, in Hattiesburg, Mississippi, was the demobilization center where Billy reported sometime in the spring of 1946, but it wasn't a short process. The young couple spent a relatively long time in Mississippi, compared with their other stops, and visited some Biloxi tourist attractions, going by some photos—Beauvoir, Jefferson's Davis' plantation, and the beach. We think their lovely first anniversary photo might have been taken in Meridian, Mississippi, (north of Hattiesburg) that spring, since June seems to be wearing the same dress in this photo (which also might be her wedding dress!) that was at least developed there, about a week after their anniversary date.
If you want to get a idea of the extent of Billy's (and June's) travels in the U.S., take a look at this map.
According to his Statement of Service Billy was officially demobilized on July 9, 1946. But he was put on inactive status May 2 and given 66 days of leave, according to this Army order. This documentation supports information from June, who remembered that he began classes at Sul Ross State Teachers College, (now Sul Ross State University) in Alpine, Texas, in June of 1945. With so many men back home and with nothing for them to do in the service, it is not surprising that if a young man wanted to start college he could do so before being officially mustered out.
Here are some interesting certificates and forms that marked the end of, and recognized, Billy's wartime service:
And here is a group photo, which I think was taken at Camp Shelby, based on the documents with which we found it. However, no identifying notes appear on the reverse. Billy is in the back row, fifth from the left (behind the woman with the plaid blouse):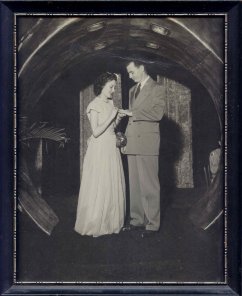 A&M graduation, 1949
However, Billy remained in the Reserves, and we have some orders dated from the late 1940's that reflect this. In October, 1947, he took physical exams for flying at
Ellington Field
, near Houston. And in February, 1948, he was assigned to a reserve squadron in Bryan, Texas, which is near College Station and Texas A&M.
After summer school at Sul Ross in 1946, Billy and June moved back to College Station, and Billy re-enrolled at Texas A&M, where he'd started his college education in 1940 (that's why the scholarship we started for him is named "William D. Lewis, '44," his original projected graduation year). June worked in the registrar's office, and told me that there was a lot of paperwork involved with keeping track of the ex-servicemen-students and their GI Bill benefits.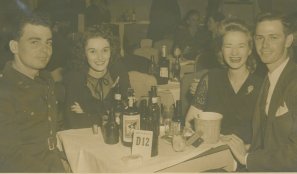 Billy & June on a double date
For some reason, perhaps finances, perhaps reserve responsibilities, Billy dropped out of school temporarily, and the couple went to live with his brother Arthur and his wife in the summer of 1948. But that fall, they were back at A&M, and Billy graduated with a B.S. in May, 1949. An event of some significance happened before the graduation, however. I was born that February in Bryan! An Aggie from birth.

That summer Billy worked at the Agricultural Experiment Station there, but was reassigned to a reserve squadron in Houston.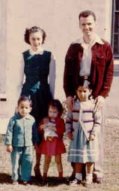 Baton Rouge, 1951
Billy started graduate school at Louisiana State University in Baton Rouge, Louisiana, in the fall of 1949, and was there until 1951. While there, he was assigned to a reserve unit in Baton Rouge. At LSU he made a lifelong friend, Warid, from Egypt, with whom June corresponded for many years. On the right you can see Warid's two children with Billy, June, and me.
This was a time of high international tensions. The end of World War II seemed to signal the beginning of another conflict, the Cold War between the Soviet Union and the rest of its erstwhile allies.
In June of 1950, the Cold War heated up on the Korean Peninsula. In October, 1950, we know that Billy was attending regular meetings of his reserve unit, and he applied for extended active duty. In December, 1950, he was returned to active duty, effective in February of 1951. He remained on active duty in the Air Force (although he spent some time attached to National Guard units as an advisor) for the rest of his life.