In January of 1957, Billy was given the first of many assignments to a Federal Recognition Board. I understand that these bodies give recommendations concerning promotions. The order dated January 18 names Billy as President of one of these boards.
We have no orders from most of 1957, but there is a flurry of them towards the end of the year. In one, from October, Billy's instructor pilot purview is expanded, with F89, T33, and C47 aircraft all checked. He was also appointed a Test Pilot on this date, with the same aircraft given, as well as a Flight Examiner, and a Local Flight Clearance Authority.
Soon thereafter, another order appoints Billy to the Montana State Reserve Facilities Board. A bit later he is "granted the aeronautical rating of Senior Pilot." An order toward the end of November appoints him as President of a "Flying Evaluation Board & Aeronautical Rating Board, for the purpose of studying the professional qualifications of rated Officers and to make recommendations regarding their future utilization in the performance of flying duties." A December order appoints him as a regular member of another Federal Recognition Board.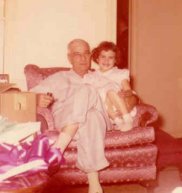 Popoo & Joan in Houston, 1957
We must have spent Christmas, 1957, in Houston. An order from early December grants Billy 20 days leave beginning "on or about" December 20. This is the first order we have that specifically mentions a year-end leave, so this might have been our first winter trip from Montana to Texas.
Many of the orders we have deal with "Air Force Specialty" designations, which are important for an officer, according to my nephew, Col. James O'Brien. In February, 1958, an order deals with several of Billy's "specialties": Operations Staff Officer, Pilot, and Air Operations Officer. Curiously, one of his Pilot specialties is changed from "light bomber" to "tactical bomber." It seems odd that his World War II experience in the B-26 bomber would still be relevant!
In April of 1958, Billy was off to another class. This time the course was held at Maxwell Air Force Base in Alabama and he was given seven days for this purpose. The class was called "Air Weapons System Orientation" and lasted 4 ½ days. As is the case for many of these temporary duty assignments, Billy is "cleared for access to classified material up to and including Top Secret."
September, 1958, saw Billy get a new jacket (Type L2), according to an order. Presumably other articles of clothing had been assigned to him over the years, but this is one of the few pieces of paperwork we have that mentions this specifically.
Later in September, a rather intriguing order changes Billy's "type of last overseas tour code from 'A' to 'B'." I wonder if this could perhaps mean that he was up for an overseas assignment when his time in Montana was done? I remember there being some speculative talk around the house that we might be headed to Europe sometime in the future. Sadly, this next assignment was never made.
A particularly confusing order, dated September 15, relieves Billy of his assignment as advisor to the 186th Fighter Interceptor Squadron and assigns him duty with the 120th Fighter Group, as advisor. The very next sentence, however, seems to contradict this switch: "Officer is relieved from additional duty with 120th Fighter GP, as AF Adviser and assigned additional duty with 186th Fighter Interceptor Sq as AF Adviser." Perhaps this reflects a reorganization of squadrons and groups? At any rate, at the end of the order, we see "No change in duty station or functional code." So, why the paperwork?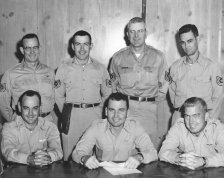 Casper group
Henry Maine is seated on Billy's right
Apart from another Facilities Board appointment (this time as an alternate) and some more specialty verbiage, the next interesting order we have is from May, 1959. Billy and three other officers (one being his good friend Henry Maine, whom I remember very well) are given temporary duty orders to attend an Air National Guard summer encampment as Air Force Advisers. The authorization has them reporting to Natrona County Airport in Casper, Wyoming.
Later in May, appointment to a different kind of board shows up in the orders. This time Billy is listed as Air Force Senior Adviser, and Recorder, to the "120th Fighter Group Standardization and Tactical Evaluation Board in F-89 Aircraft."
In July and August, another Federal Recognition Board appointment is noted, as well as an updated appointment as instructor pilot in F89, T33, and C47 aircraft, and as an Instrument Flight Examiner. Another appointment as Local Flight Clearance Authority, one to the 120th Fighter Group Instrument Standardization Board  (President), 120th Fighter Group Flight Standardization and Tactical Evaluation Boards (Recorder) and Flying Evaluation Board (adviser, non-voting). This surely does sound like a lot of meetings!
Also in July, it seems that Billy and Hank Maine traveled together again, this time to Cold Lake, Alberta, Canada for an Air Defense exercise. We learned about this trip in an order dated September 15; the odd date is a result of the "exigencies of the service having been such as to preclude the issuance of competent written orders in advance." It does sound like it was a busy summer.
In September, Billy headed back to Maxwell Air Force Base in Alabama, with a Top Secret clearance, to attend a Weapons Employment Planning Indoctrination Course which began on September 14 and lasted two weeks. We even have a rather fancy certificate of completion for this course.????
In addition to another Federal Recognition Board appointment in October, 1959, Billy was appointed President of the 120th Fighter Group Classification Board, "in addition to other duties." This clause was appended to many of these appointment orders. So, in addition to all the stuff you normally do, you'll be doing this, and this, and this, too!
The only remaining orders we have are from early 1960, and deal with specialties, and appointment as a T33 and F89 test pilot.
A rather poignant order is the last one that we have. It appoints Billy to an accident investigation board to investigate a crash on March 27 of an F89J aircraft. This is the type of plane that Billy was flying when his fatal accident happened, just 12 days later. Billy was appointed President of this board, and one of the other members was Rex Tanberg, a good friend of his whom I remember well.
Billy's life and service ended the morning of April 18, 1960, when the plane he was piloting crashed upon takeoff. He was embarking upon a multi-day assignment somewhere, but unfortunately we don't have an order that tells us the purpose of the trip.
We have a lot of forms dealing with with the financial and administrative aftermath of Billy's death. And some impressive letters and official certificates honoring his service. See the sub-tab "After 4-18-60" for links to these documents.